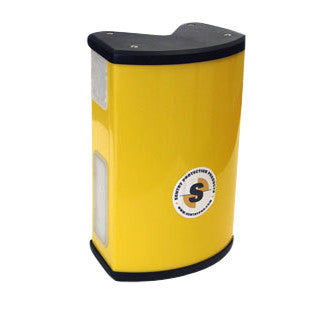 Collision Sentry® Warning System
SKU :
$2,362.00
NEWLY UPDATED with a new sound alert. In industrial settings where forklift traffic and pedestrians intersect, Collision Sentry® forklift collision detection and avoidance products can help reduce or eliminate "blind corner" collisions by providing a visual warning that alerts forklift drivers and pedestrians to approaching traffic. Working like a traffic light to flash a warning, the patent-pending Collision Sentry is easy to install, self-powered, highly visible and reliable.

Advantages of the Collision Sentry® Warning System
Self-powered - 

Uses standard D - cell alkaline batteries, eliminating the need for any wiring to a facility's electrical system

Passive Infrared Motion Sensors - 

Programmed to detect motion on both sides of the corner.

Sends ample warning to the forklift driver and the pedestrian to correct their movements.

Highly visible LED lights - 

Flash a warning when motion is detected from both directions.

Portable - 

Requires minimal space and no tools for installation. 

Installs easily and virtually anywhere.
Download Collision Sentry Brochure
Watch a Short Demonstration Video
The Floor Tape Store Guarantee
"Our products are guaranteed to give 100% satisfaction in every way and come with a 3 year warranty. If you would like to try our tape without the risk, purchase up to two rolls from us. If you aren't completely satisfied we will replace it, refund your purchase price, or credit your credit card, as you wish. We do not want you to have anything from Floor Tape Store that is not completely satisfactory."
More from this collection